Globalshift Limited - copyright © 2009 to 2020; All rights reserved.
Some data in the website may not be the most recent available Home | Terms of use | Datafiles
The British Virgin Islands (BVI), is a British Overseas Territory east of Puerto Rico making up part of the Virgin Islands archipelago in the Leeward Islands of the Lesser Antilles. They consist of the main islands of Tortola, Virgin Gorda, Anegada, and Jost Van Dyke, along with over 50 smaller islands and cays. Only 15 are inhabited.
The islands were first settled by Arawaks from South America around 100 BC. The Arawaks were displaced by Caribs from nearby islands in the Lesser Antilles in the 1400s. Columbus sighted them in 1493 and they were eventually claimed but not settled by Spain in the early 1700s.
The first settlement was Dutch, established on Tortola in 1648. The Dutch were usurped by the British in 1672. Meanwhile Denmark took control of the remaining Virgin islands that are now owned by the USA.
The UK brought wealth to the islands with the introduction of sugar plantations and slaves from Africa but the economy declined after the abolition of slavery. At first they were administered as part of the British Leeward Islands and then by St. Kitts and Nevis until gaining separate colony status in 1960 and self-rule in 1967.
Tourism and financial services now drive a successful economy. The islands were severely damaged by hurricane Irma in 2017.
The North Atlantic Ocean lies to the north of the Virgin islands, and the Caribbean Sea lies to the south. They are part of the Caribbean island arc. Most of the islands are volcanic in origin with a rugged terrain. Only Anegada is distinct, being low-lying and composed of coral limestone.
This geology is not suitable for the generation and accumulation of commercial volumes of oil and gas onshore and offshore.
Globalshift believes the country is unlikely to achieve any production in the future.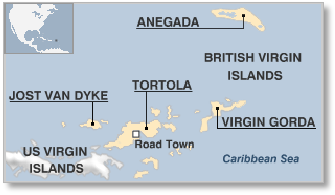 VIRGIN ISLANDS (UK)
- Map and National Flag
CENTRAL AMERICA
Group of meerkats
Capital
Population
Land area (sq kms)
Oil prod (000s b/d)
Gas prod (bcm/yr)
Oil cons (000s b/d)
Gas cons (bcm/yr)
Road Town
0.03 mm
151
None
None
1.1
None
The Territory is a democracy with ultimate authority vested in the UK monarch exercised by an appointed Governor. Defence and most Foreign Affairs remain under the UK.
The Head of Government is the Premier who is elected along with the other members of the ruling government to a unicameral 13-member House of Assembly.
There is no government department specifically responsible for oil and gas resources.
Excel files - histories and forecasts of production and wells for all countries and regions