Globalshift Limited - copyright © 2009 to 2020; All rights reserved.
Some data in the website may not be the most recent available Home | Terms of use | Datafiles
Samoa (The Independent State of Samoa) is a republic in the South Pacific Ocean, part of an island chain west of the Cook Islands and north of Tonga. It consists of Savai'i and Upolu plus smaller islands.
Samoa was first settled 3,500 years ago when Lapitan Austronesian people migrated eastwards from Southeast Asia. The islands were sighted by Europeans in 1722 and named the Navigator Islands in 1768. The Samoans were feared and it was not until the 1830s when German and British traders began setting up businesses.
Competing claims fuelled civil wars amongst the islanders which ended after the Tripartite Convention in 1899 when Germany and the USA divided the chain. The western islands became German Samoa while the UK gave up all claims, receiving other islands in return.
Germany governed from 1900 to 1914 when New Zealand expelled them at the request of the British. New Zealand controlled it as a trusteeship called Western Samoa.
The Mau, a non-violent movement, began to demand independence and this was granted in 1962. The name was changed to Samoa in 1997. The economy is dependent on agricultural and fishing exports with aid and overseas remittances important. In 2011 Samoa moved time zones to the west of the International Date Line to help the conduct of trade with Oceania.
Samoa is in the Polynesian region of the Pacific Ocean consisting of 2 rugged volcanic islands (Upolu and Savai'I), which account for 99% of the land area, and 8 small islets sitting on oceanic crust.
Savai'i, the western most island, is volcanically active with the most recent eruptions in Mt Matavanu occurring from 1905 to 1911.The Saleaula lava fields on the central north coast are the result of these eruptions. The islands were created above the Samoa hotspot.
This geology is not suitable for the generation and accumulation of commercial volumes of oil and gas. Thus Samoa has no identified indigenous oil or gas resources, either onshore or offshore, and Globalshift believes it is unlikely to achieve any production in the future. No exploration wells have ever been drilled in the territory.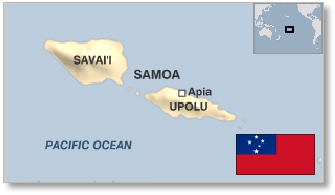 SAMOA
Map and National Flag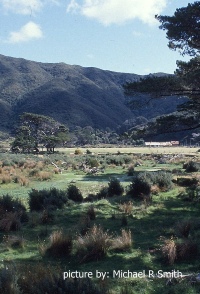 AUSTRALASIA
Sheltered valley
Capital
Population
Land area (sq kms)
Oil prod (000s b/d)
Gas prod (bcm/yr)
Oil cons (000s b/d)
Gas cons (bcm/yr)
Apia
0.18 mm
2,842
None
None
1.1
None
Samoa is a parliamentary democracy modified to take account of Samoan custom. The Head of State is elected by the legislature for a fixed 5-year term.
The unicameral legislature, headed by a Prime Minister, consists of 49 members serving 5-year terms of which 47 are chiefs (matai) elected from territorial districts and 2 are chosen by non-Samoans.
There is no department of government in Samoa specifically responsible for oil and gas resources.
Excel files - histories and forecasts of production and wells for all countries and regions