Globalshift Limited - copyright © 2009 to 2020; All rights reserved.
Some data in the website may not be the most recent available Home | Terms of use | Datafiles
CENTRAL AMERICA
Active volcanic crater
Montserrat is a British Overseas Territory in the Leeward Islands of the Lesser Antilles. It lies southeast of Puerto Rico and southwest of Antigu and Barbuda and has 2 islets; Little Redonda and Virgin.
Columbus sighted and named the island in 1493 at which time it was probably unoccupied although there is evidence for previous Arawak settlements. It was not settled until 1632 when it became a British colony after a group of Irish people from Nevis landed and began to import African slaves to build an economy based on agriculture.
In 1782 France briefly captured Montserrat but returned it to the UK under the 1783 Treaty of Paris. Britain abolished slavery in 1834.
From 1871 to 1958 it was administered as a Crown colony of the British Leeward Islands, becoming a province of the West Indies Federation from 1958 to 1962 and then re-designated as an Overseas Territory after 1982.
In July 1995, the Soufrière Hills volcano, in the south of the island erupted destroying the capital of Plymouth and two-thirds of the population fled, mostly to the UK. Large parts of the southern half of the island are still uninhabitable and subject to an exclusion zone, buried under lava flows and ash.
Montserrat is a geologically active volcanic island in the Lesser Antilles. From 1995 half of the island, including the former capital, was covered by ash and lava from eruptions of the active Soufrière Hills volcano.
The geology is not suitable for the generation and accumulation of commercial volumes of oil and gas. Thus Montserrat has no identified indigenous oil or gas resources, either onshore or offshore
Globalshift believes it is unlikely to achieve any production in the future. No exploration wells have ever been drilled on the island or in its surrounding waters.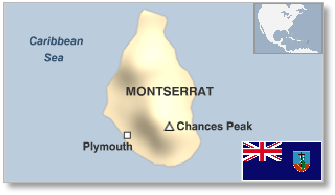 MONTSERRAT
Map and National Flag
Capital
Population
Land area (sq kms)
Oil prod (000s b/d)
Gas prod (bcm/yr)
Oil cons (000s b/d)
Gas cons (bcm/yr)
Brades (temporary)
0.01 mm
102
None
None
0.6
None
Montserrat is an overseas territory of the UK. In recognition of the disaster, in 1998, the people of Montserrat were granted full residency rights in the United Kingdom, allowing them to migrate if they chose. British citizenship was granted in 2002.
There is no government department specifically responsible for oil and gas resources.
Excel files - histories and forecasts of production and wells for all countries and regions